About Us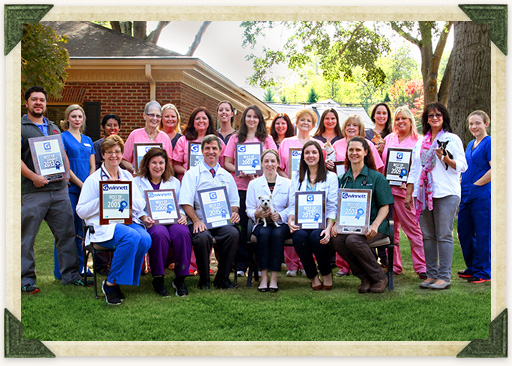 Duluth Animal Hospital has been honored to serve our community for over 39 years and we have always been dedicated to excellence in everything we do. We are proud that we have received numerous awards, including "BEST OF GWINNETT" award for 14 years. We are greatly humbled by this accomplishment and know our clients are the reason for our success.
We were the first veterinary hospital in Duluth, and the first to receive accreditation from the American Animal Hospital Association. AAHA is the highest level of certification an animal hospital can achieve. This means we voluntarily comply with the highest standards in our profession and have undergone rigorous evaluations every 3 years since 1987. This keeps us on the cutting edge of expert medical care and surgery.
Duluth Animal Hospital Provides Advanced Treatments
We are a full-service Gwinnett County animal hospital offering orthopedic surgery, laparoscopy, ultrasound, endoscopy, advanced dentistry, internal medicine, boarding and grooming. We strive to continuously improve our services so that we can always meet our patient's needs. We love what we do, and show that through our work every day. Thank you for choosing us to care for your furry family members.
Our hospital team members appreciate your support as we continue to do the work we love. You have always been the best way for us to grow and meet new people and patients. We rely on your recommendations to friends and neighbors and realize that this is a special trust, and the greatest compliment we can receive.
Payment Policy
Duluth Animal Hospital accepts cash, debit, CareCredit, Visa, MasterCard and American Express as forms of payment. We do not accept checks. Payment is due at completion of services.
We ask for 24-hour notice of appointment cancellation when possible.