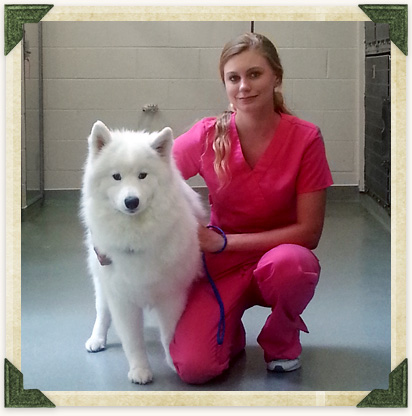 Boarding
We know how important it is for you to know your pet is happy, comfortable, and safe while you are away. We welcome your pets to stay in our newly renovated boarding facility! We provide clean, comfortable accommodations in a climate controlled, state-of-the-art facility 365 days a year. We treat your pets like our own and want their experience to be as safe and happy as possible by providing one-on-one attention and multiple walks every day in our outdoor fenced yards.
We recommend bringing your pet's medications and food (if on a special diet) or we can provide our food at no additional cost. We also provide blankets, pillows, and bedding for all our boarding pets. (You are welcome to bring a blanket, but we ask that no beds are brought as they can be difficult to wash if soiled by pets during their stay) . Feel free to take a tour of our boarding facility, complete with plexiglass-front runs and skylights for natural lighting.
For your dog to board with us, we require that the Rabies, Distemper/Parvo, Kennel Cough, and Influenza (both strains) vaccines be up-to-date, as well as a negative fecal exam performed within the last year. We are happy to provide these services during your pet's stay if needed.
We also provide feline boarding in a separate cat ward, complete with skylights for natural lighting and a kitty condo for entertainment. We provide everything your cat needs – litter boxes, dishes, cat beds and blankets, and even toys for their amusement!
For cats to board, we require the Feline Rabies and FVRCP vaccines be up-to-date. We are happy to provide these services during your pet's stay if needed.
Medical Boarding
We also offer specialized medical boarding for pets with diabetes or chronic or acute medical conditions. Your pet's stay with us will include careful supervision, administration of any needed medications such as insulin injections, etc. These services have separate pricing than nonmedical boarding. Call us today to discuss your pet's individual needs during their stay with us.
Exotic Boarding
We also provide boarding for exotic pets, including rabbits, guinea pigs, and parrots. For these, we ask that you bring their cage, bedding, food, and any necessary items. Please call us if you have any questions regarding exotic pet boarding.
Boarding drop-off hours begin at 7AM Monday-Friday and 8AM on Saturday. Pick-up is available until 6:30PM Monday-Thursday, 5:30PM Friday, and 12:30PM on Saturdays.
Daycare
Need to get your pet out of the house while the carpets are being cleaned? Along with boarding, we also provide day care services for pets that don't require an overnight stay. This can be a great option if you will be gone for a long period during the day or need to temporarily remove pets from your home any reason.
Spa Services
We offer baths, brush outs, nail clipping, nail dremeling, ear cleaning, blow outs, and more for our patients. We also provide spa services at our sister facility next door, the Duluth Dog Depot. Click HERE to request an appointment at Duluth Dog Depot or give us a call at 770-476-3317 to schedule at Duluth Animal Hospital.