Microchip Identification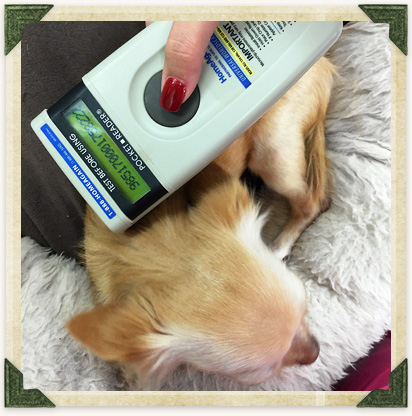 A lost pet is a frightening situation with potentially devastating consequences. This is why the team at Duluth Animal Hospital considers microchip pet IDs a fundamental part of pet ownership. This safe, reliable, and permanent pet identification takes less than 10 seconds to implant and can save you and your pet days, weeks, or more of fear and anguish.
Did you know that more than 10 million pets get lost each year? 33% of all dogs and cats will become lost during their lifetime and without ID, 90% won't return home. Unfortunately, becoming lost is the number one cause of pet death. Microchipping is quick and painless, similar to your pet's vaccines and is implanted beneath the skin between the shoulder blades. We offer the most widely detected microchips to increase the chances of a safe recovery. We also employ universal microchip scanners here at the hospital, so if you find a lost pet, you may bring them by during business hours to have them scanned for the presence of a chip.
Almost as important as the placement of a microchip, is the need to keep your information up-to-date. Too often, lost pets are brought in and successfully scanned, only to find the phone numbers and/or address in the microchip database is no longer accurate. Please be sure to update your information with your pet's microchip company each time it changes to be sure your pet can be returned home should they become lost.
HomeAgain : 1-888-HOMEAGAIN (1-888-466-3242) or visit www.homeagain.com
In-House Pharmacy
Duluth Animal Hospital has a large in-house pharmacy for your pet's prescription needs. Our pharmacy is fully stocked with a large selection of preventative medications and treatments, prescription pet diets, the most effective flea, tick, and heartworm medications, as well as skin/coat care products, and nutritional supplements. All medications and diets are stored under optimal conditions to ensure quality and guaranteed effectiveness. We also provide FLAVORx and compounding services, can dispense written prescriptions if desired, and can arrange for home delivery of medications through our online pharmacy.
Hospice/End of Life Services
Saying goodbye to a long-time friend is difficult and painful - we understand because our pets are family members too. We work with clients to ensure their pet's comfort, dignity, and peaceful passing in a quiet and personal atmosphere. We take care of details such as final wishes and payment before the moment arrives, in an effort to allow you to focus on your beloved pet. After-care services include taking care of remains, including private cremation if desired.
Your options following euthanasia vary according to your final wishes for your pet. If you would like to take your pet home for private burial, we are happy to provide a casket. You also have the option of cremating your pet. For a communal cremation, multiple pets are cremated simultaneously. For an individual cremation, you will receive your pet's ashes back, and there are many options for urns, including wood and metal that can be personalized or engraved. For decades, we have worked with the company Deceased Pet Care for our private cremation needs. They are Georgia's only accredited pet funeral home and state-certified pet crematory, and they are more than happy to answer any questions regarding the process, price, or customization options available.
Deceased Pet Care (770) 457-7659 or www.deceasedpetcare.com
What can you expect during the procedure?
Your pet's comfort is our number one concern. A sedative is administered first by the doctor, to allow your pet to relax and feel comfortable. When you are prepared, an injection is given to your pet, which allows for a peaceful and painless passing. You can choose to be present for all, none, or part of the procedure – whatever you feel is best. We know the decision to say goodbye to a pet is difficult, and our staff is here to support you along the way.