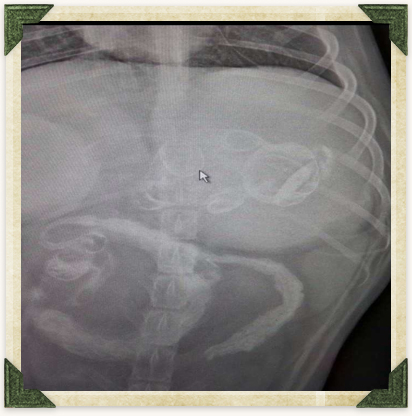 Radiology
Radiographs, or X-rays, are one of the most common and useful diagnostic tools in medicine, because of their ability to penetrate tissues and show your pet's organs and bones. We use state-of-the-art digital radiology equipment which means less exposure to pets, better and clearer x-rays, and the availability to consult with boarded radiologists for a second opinion if needed. X-rays allow us to assess bone fractures and abnormalities, soft tissue problems, orthopedic issues, and more. Digital radiology also provides the ability to perform full-mouth x-rays of the jaws and teeth during dental procedures to probe for underlying bone loss, infection, or tooth fractures. Advanced diagnostic capabilities are an extremely important part of veterinary medicine, especially since we can't simply ask our patients what is wrong.
What doesn't belong in this X-Ray? Can you find the teddy bear?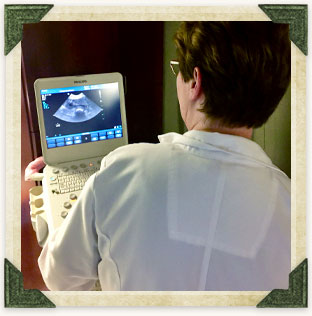 Ultrasound and Echocardiography
Ultrasound allows high quality, non-invasive imaging of the abdomen and chest. It provides a computer image of internal organs using sound waves and allows us to visualize objects that cannot be detected by X-Rays alone. In this way, the internal structure of organs can be visualized and lesions can be found. Many problems can be accurately diagnosed without anesthesia such as heart disease, liver disease, abnormal blood flow, and bladder stones. Ultrasound can also aid in pregnancy evaluation, urine collection, biopsy, and organ size and health. This painless, safe, noninvasive procedure is one of the many ways we strive to give you peace of mind when it comes to your pet's health.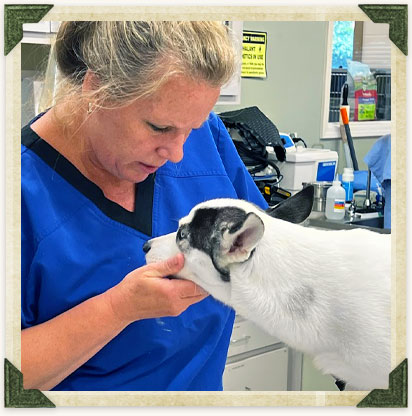 Endoscopy
High-tech fiber optics permits direct visual examination and biopsies of your pet's gastrointestinal system. This allows for more accurate diagnosis and treatment of oral, esophageal, stomach, colon and even upper intestinal tract disease. Foreign objects may also be removed without the need for surgery.
In-House Laboratory
We know how important it is to get the fastest possible results when your pet is not feeling well. We employ outside laboratories for many of our wellness and diagnostic tests, but our hospital also hosts a comprehensive, in-house laboratory that allows for a broad range of blood, urine, and fecal tests, as well as cytologies and cultures. This availability can be especially important for critically ill pets, where blood chemistry profiles can be completed in a short time to allow the fastest possible treatment.