Our Team
Duluth Animal Hospital has cultivated a select team. These caring and compassionate individuals have become a family of experience, expertise, and love of taking care of animals. Many of our staff have been with us for over 20 years and have developed lasting relationships with our clients through generations of their pets. We view each client as a member of our family. Read below to learn more about our team.
Managers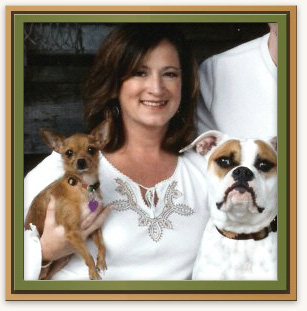 Chris Early, Practice Manager
Duluth Animal Hospital has been Chris's home since 1990. Beginning as a receptionist, she transitioned to supervisor and worked hand-in-hand with her mom who was the manager of our hospital for 24 years. Chris has been managing the practice since 2004 and has strived to help maintain the hospital's legacy and family-friendly atmosphere as we've expanded over the years.
Chris has completed the American Animal Hospital Association's Veterinary Practice Leadership program and plans to continue her education in hospital management. She is a member of the American Animal Hospital Association, the Greater Atlanta Veterinary Practice Manager's Association and the National Veterinary Hospital Manager's Association.
At home, Chris' pet family includes an American Bulldog named Ryder, a Rhodesian mix named Stella, a Chihuahua/Yorkie named Izzy (who thinks she's head of the household) and a Boston terrier named Glory. When her son went to college, she battled "empty nest syndrome" by adopting her own feathered children - a Green-Cheek Conure named Kiko, a lovebird named Poppy, and a budgie named Katie. Chris enjoys traveling, horseback riding, raising orphaned squirrels, fishing, and spending time with friends and family.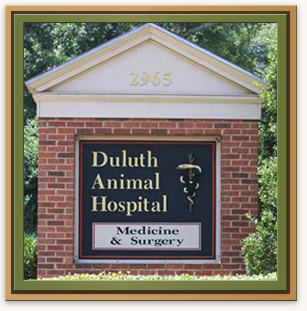 Sam Lethgo, Administrative Assistant
Sam has been with Duluth Animal Hospital since 2000 and has helped both as a veterinary assistant and in office administration. She has recently returned and we're so happy to have her with us again! Sam enjoys spending time with family, her wonderful husband, Randy, and her crew of four big pups - Buddy the Black Lab, Zena the brindle pit bull, Little Bit the blue and white pit bull, and Franklin the Yellow Lab Mix!
Veterinary Technicians and Assistants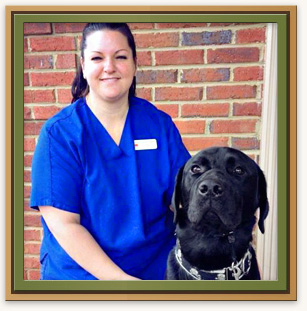 Julie Clark, RVT
Julie began her career at Duluth Animal Hospital as an intern while completing her degree in veterinary technology. After graduating in 2013, she came to work with us full-time and is now head of our surgical department. Following her interests in veterinary dentistry, Julie is currently pursuing her dental specialty with the Academy of Veterinary Dental Technicians. When not taking care of animals at work, she spends time with her two children, three dogs, two cats, and beloved Harley motorcycle!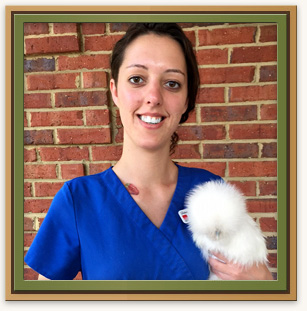 Chelsea Lee, RVT
Chelsea did part of her veterinary internship here with us at Duluth Animal Hospital and joined the team in 2015. She frequently works as a part of our surgical team and has two dogs—a Chihuahua named Kiwi and a Pitbull named Capri—as well as a tortoise named Turtle. She loves working with rabbits and small animals and in her free time she enjoys drawing and painting.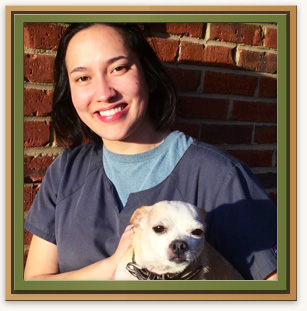 Mariana Smith, RVT
Mariana began as an intern at Duluth Animal Hospital and joined the team after she completed veterinary technician school in 2012. She shares her home with two cats, Rodger and Chewi, her husband Damon and two beautiful young sons. Mariana enjoys taking pictures, visiting the park, and working with animals! As one of five children, she loves spending time with family and feels God has truly blessed her life!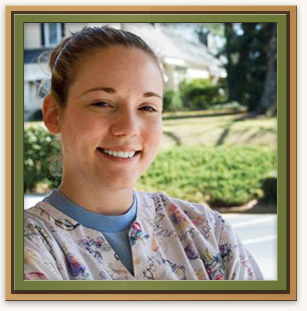 Courtney Dickens, Veterinary Assistant
Courtney has worked in the animal-care field since 2002. She joined Duluth Animal Hospital in 2006. Courtney frequently assists in our surgical ward and her interests in veterinary medicine include blood cytology and microscopic work. She has a cat named Penelope and loves music and singing.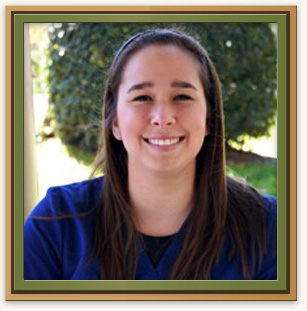 Katie Santaniello, Veterinary Assistant
Katie has been with Duluth Animal Hospital since 2008, beginning in the kennel and now helping as a veterinary assistant. Her family's many pets have been long-time patients of the hospital. Katie's four-legged family includes three large dogs—two Golden Retrievers named Ty and Sampson and a Goldendoodle named Andie—and four very large kitties! Katie works with Adopt-A-Golden Rescue to find homes for Golden Retrievers in need.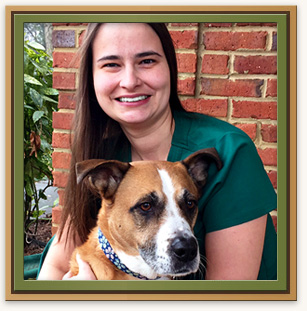 Kathryn Guyton, Veterinary Assistant
Kathryn ("Kat") has been a member of Duluth Animal Hospital since 2015. She was born in Aiken, South Carolina and lived there until moving to Georgia with her husband, Daniel. Kat graduated from the University of South Carolina, Aiken with a Bachelor of Science degree in Biology. Growing up a true country girl on her family's farm, she has always had a large pet family. Kat and Daniel currently share their home with dogs Lexi and Damon, a gecko named Goku and a cat named Achilles. She enjoys horseback riding, reading, music and hiking with family.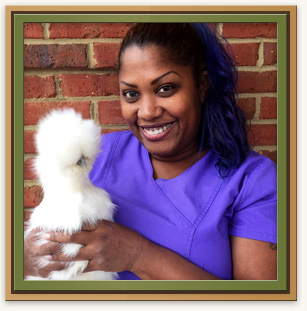 Jo Anne Aird, Veterinary Assistant
Jo Anne joined Duluth Animal Hospital in 2016. She was born and raised in New York and has worked in the animal-care field since 2003. Jo Anne has two Pomeranians named Mena and Cesar, two Russian Blue cats named Nubbz and Bishop, as well as a bearded dragon named Drago. She loves spending her free time with her two sons Jason and Dante!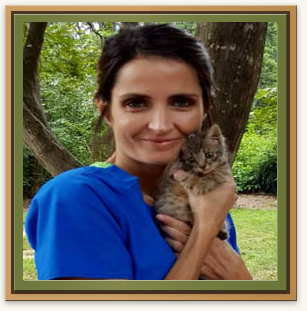 Summer Carswell, Veterinary Technician
Summer joined our staff in 2017, after working in veterinary medicine for 17 years. She has a bachelor's degree in education and shares her home with 5 rescued cats, a labrador retriever and a poodle, and her 14-year-old daughter, Emily. Professionally, she enjoys assisting in surgical procedures and helping in the diagnosis, management, and treatment of endocrine diseases and imbalances. In her free time, she enjoys spending time with her pets and daughter, and being in the outdoors.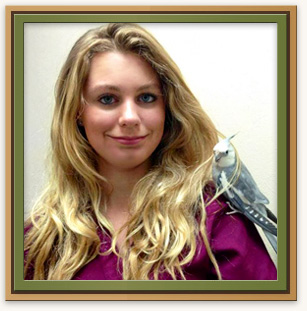 Ariel Boxall, Kennel Attendant
Ariel started out as part of our kennel team in 2013 and is now training as a veterinary assistant. She shares her home with several four-legged and feathered friends including parrots, a horse, Bella the Boston Terrier, Jager the Border Collie mix and a cat named Wolfie. Ariel is also mom to a little flock of hens who lay multicolored eggs. She enjoys horseback riding and reading in her spare time.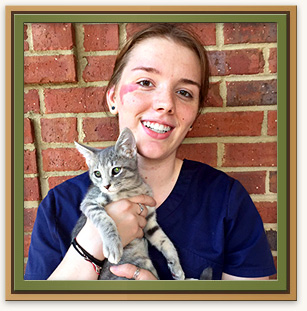 Angel Galloway, Kennel Attendant
Angel has been a part of our kennel staff team since 2015 and is training to become a veterinary assistant. Every animal that comes through our doors is her favorite! She has a tiny Chihuahua named Zeus and three cats--including an adorable three-legged kitty named Cat'n Hook. In her free time, Angel enjoys playing the guitar.
Reception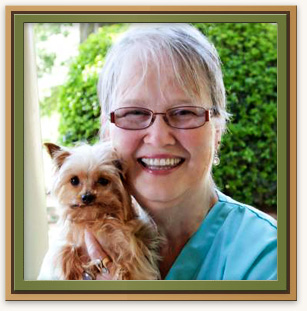 Connie Bailey, Receptionist
After working in the travel industry and then customer service for many years, Connie joined the Duluth Animal Hospital team in 1993. She is married to a wonderful man named Greg. Together, they have one son and a beautiful grandson. Connie is also the proud parent of a tiny Yorkshire Terrier named Capri. She enjoys shopping, going to the mountains and spending time with her family.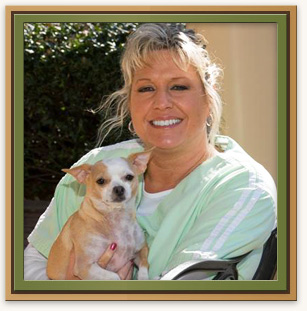 Christi Grace, Receptionist
Christi began working in the animal-care field at the age of 15 and joined Duluth Animal Hospital in 1992. She is a true animal lover and the proud mama to a crew of Chihuahuas, some of whom come with her to the hospital during the week. Christi enjoys rescuing senior pets in need and fosters with Angels Among Us.
In addition to working at the hospital, Christi also runs a pet-sitting business. Her other hobbies include shopping, traveling to the beach, going to Las Vegas and spending time with friends and family.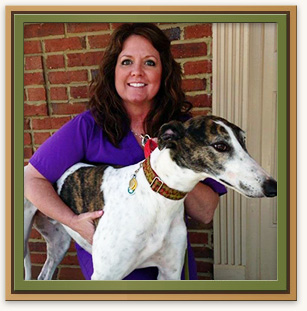 Allison Sherer, Receptionist
Allison joined our reception staff in 2012 after working in the animal-care field for several years. She especially loves Greyhounds and Whippets and works with Greyhound Rescue to find homes for ex-racers. Allison shares her home with three dogs named Bree, the Jack Russell, Myles, the rescued greyhound, and Iggy, the Italian Greyhound. Allison enjoys spending time with her three beautiful daughters—Whitney, Kendra, and Maddie—and taking her three four-legged babies on walks.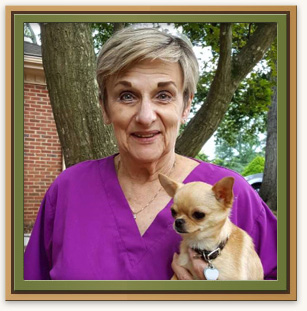 Sandra Roberts, Receptionist
Sandra joined our staff in 2001 as a part-time receptionist while still working full-time at Duluth High School. Upon her retirement from the school in 2008, she transitioned to full-time at the hospital to pursue her love of animals further. Sandra has a houseful of rescued pets of her own, including a huge pair of St. Bernard and Newfoundland dogs. Her favorite breed, however, is the Bassett Hound and she has a very handsome one named Eeyore. Sandra enjoys meeting all of our patients and isn't stingy with dog treats and love!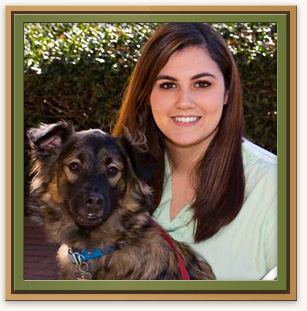 Alicia Williams, Marketing & Communication Coordinator
Alicia has been with Duluth Animal Hospital since 2008, and is mom to the rescued pair Roo, the two-legged Chihuahua, and Penny, the Silkie Chicken. She is head of Duluth Animal Hospital's online and social media presence, as well as the videos created here at the hospital. Alicia has a special love of rescued Pit Bulls, including one named Lucy who stole her heart, and a growing flock of adorable bantam chickens of various breeds. She is married to a wonderful man named Donnie who supports her passion for animals, as well as her interest in writing and photography.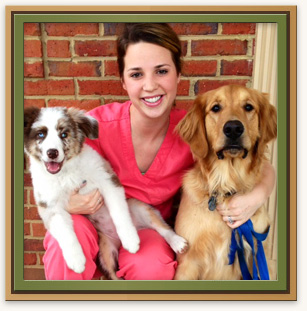 Stephanie Raybourn, Receptionist, Kennel Manager
Stephanie joined Duluth Animal Hospital in 2014 after her husband, Seth, completed his deployment in the military. She operates as our kennel manager and also helps in the reception area. She is pursuing a degree in biology and plans to become a teacher. Family is extremely important to Stephanie (she is one of three sisters), and she adores her crew of five pets: Harper the Aussie, Duke the Golden Retriever, and her three cats named Kitty, Olive, and LuLu.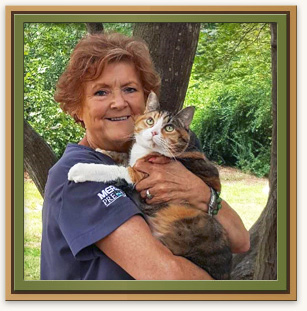 Vicki Baskette, Receptionist
Vicki worked in veterinary medicine for 15 years prior to joining Duluth Animal Hospital in 2015. She has three children and four beautiful granddaughters, including twins. Vicki also has two huge Great Pyrenees dogs named Sampson and Sadie along with six cats. She loves big dogs and works closely with Great Pyrenees Rescue, finding homes for dogs in need.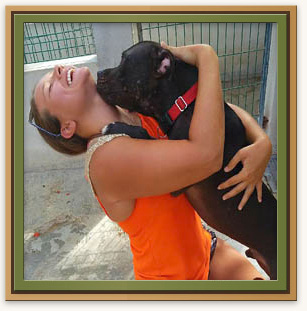 Shelby Teipel, Receptionist
Shelby joined the Duluth Animal Hospital reception staff in 2017 after working in veterinary medicine the previous 5 years. She has a rescued tabby cat named Mozzie and a black Labrador/Beagle mix named Bentley. She has a special love for all the dogs that come through the hospital. Outside of work, she especially enjoys anything water related - the beach, lake, and pool and participating in water sports!
Kennel Staff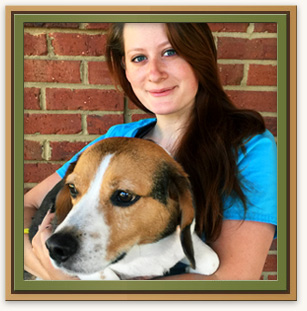 Rebekah Williams, Kennel Attendant
Rebekah is working with our kennel pets part-time while she attends college. She has been around animals her entire life and is mom to a German Shepherd/Chow mix named Singer as well as a rescued, mated Eclectus parrot pair named Finnigan and Scarlett. In her free time, Rebekah enjoys running, playing violin, reading and watching movies.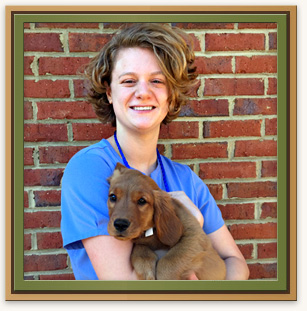 Kendall Diehl, Kennel Attendant
Kendall is the daughter of Duluth Animal Hospital Veterinarian Dr. Diehl. She is with us while finishing high school. Kendall has dogs and cats at home as well as several friendly pet rats. She enjoys running and horseback riding, and she plans to attend college after graduation. Kendall is sister to three younger brothers and has been a great addition to our staff!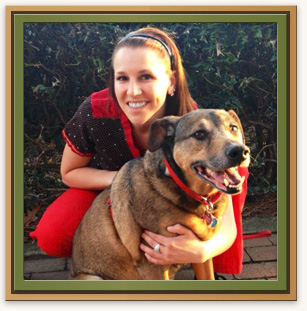 Lauren Linch, Kennel Attendant
Lauren has been working at Duluth Animal Hospital since 2008. She helps take care of our boarders and overnight guests during the weekend hours. Lauren has two dogs, Mary and Zeus, as well as a really neat bearded dragon!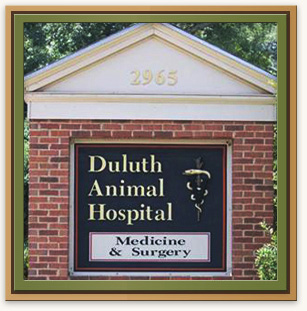 Derek Niagro, Kennel Attendant
Derek joined Duluth Animal Hospital in 2015. He is the son of Dr. Beth Niagro, one of our many compassionate veterinarians. Derek has been around animals his entire life and has a Papillon named Skipper and a cat named Shante at home. He enjoys gaming, movies, boating and spending time with friends. He is currently working towards a degree in computer programming.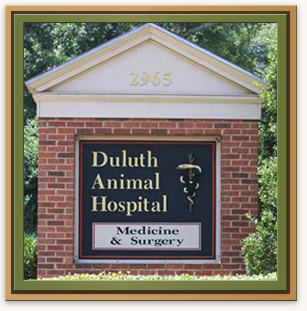 Akylah Riedl , Kennel Attendant
Akylah transitioned to Duluth Animal Hospital from another boarding and day camp pet facility. She has had previous experience with caring for many different types of pets and now helps provide care for our boarding and overnight patients. She is also expecting her own little bundle of joy this summer, and is excited to welcome her first child, a baby boy, into the world!
Grooming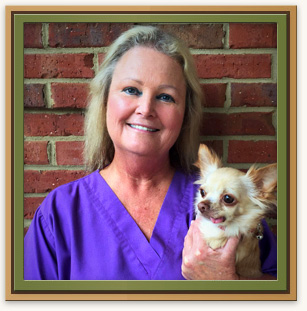 Joyce Bagley, Groomer
Joyce is the proud mother to two daughters, three beautiful grandchildren, and a crew of Chihuahuas. She graduated from Pet Boutique Grooming School in 1991 with a master grooming certification and has been with Duluth Animal Hospital ever since. Joyce also works with rescue and foster animals and has groomed several generations of pets with our clients over the years. Each day she strives to bring comfort and beauty to each pet that she grooms!
Pint-Sized Reception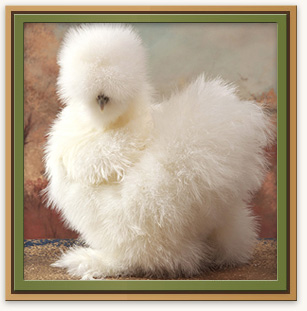 Penny Chicken
Penny Chicken was rescued at 9-weeks-old and began riding to the hospital with her mom for work during the day. She fit right in and now patrols the reception area with her best friend, Roo, laying eggs and chatting with clients. A photo of her and Roo went viral in 2014 and the two have since been on National Geographic's Unlikely Animal Friends TV show, in several newspapers and magazines including the Gwinnett Daily Post and Cesar's Way Magazine, in books such as Unlikely Friendships: Dogs, Together Forever: True Stories of Amazing Animal Friendships, and in videos created by the Daily Mail, Barcroft Media, and The Dodo!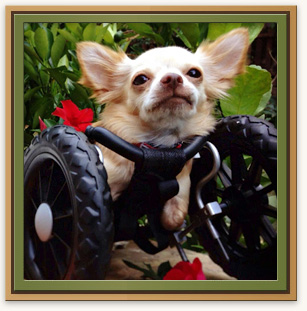 Roo the Chihuahua
Roo was born without front legs and found abandoned in a ditch at only 6-weeks-old. After being brought to the hospital, he found his fluffy soulmate in Penny Chicken and was adopted into the family. Roo now travels with Penny to work and spends his days at the hospital greeting clients and visitors, begging for treats and wheeling around the reception!